Roofing Sheets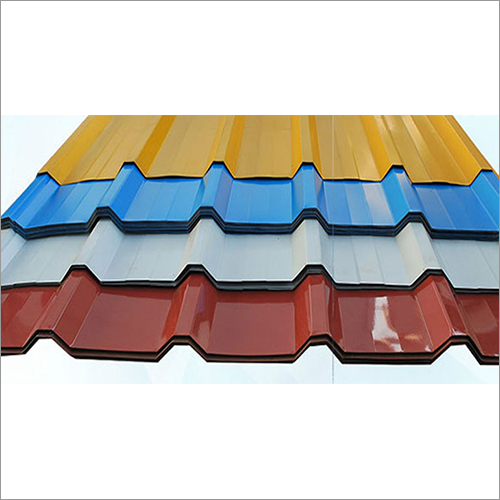 Roofing Sheets
Product Description
VSI Hi Rib trapezoidal panels are manufactured from zinc (43.5 %), aluminium (55%), and silicon (1.5 %) alloy coated high tensile steel coils Confirms to physical specification of ASTM A792 Panels are supplied in colourless galvalume/zinc alum and pre-painted galvalume finishes.
Our company offers best in class Roofing Sheets which is used for the construction of various highly durable and sturdy roofs to provide higher safety against harsh atmospheric conditions such as rainfall, heavy sunlight, ultra violet rays and other. It is manufactured by using best in class high density thermoplastic materials that makes it capable to resist heavy impacts to avoid cracking and bending. Buyers can get this top quality Roofing Sheets from us in large quantities at a reasonable price range.
Specification
| | | | | | | | | |
| --- | --- | --- | --- | --- | --- | --- | --- | --- |
| Profile | Yield strength | Overall width | Effective width | Thickness | Supply length | Coating | Application | Fixing method |
| VSI Hi Rib | 550 Mpa | 1060 mm | 1000 mm | 0.47,0.5 | Up to 12.5 M | AZ 150 | Roof/wall cladding | Piercing/screw down system |
FEATURES OF VSI ROOFING SHEETS
Unique anti capillary grove ensures leak proof

Lower valley / closer pitch ensure high strength

Longer spanning capability up to 12.5 M

High strength of up to 550Mpa YS

Thermal Efficiency

Superior Technology

Durability

Safety
VSI STANDING SEAM PANEL SYSTEM (ASS 475 (REFER MANI))
VSI 360 double lock standing seam profiles a screwless roofing system which is alternate to conventional piercing roof system to eliminate the risk of leakage at screws, side and end laps. Trapezoid standing seam roof panel is formed at a site to the required length to cover from ridge to eave. The steel clips are fixed to roof purlins by screws and the panels along with clips are field seamed by the electric seaming machine to obtain 360 double lock seam.
Features: -
Sheets far beyond transportable lengths are manufactured by site roll forming

The puncture free roof system eliminates the risk of corrosion and leakage through fastener holes.

The deeper valley allows drainage during heavy rains.

Maintenance free for many years.

Machine seaming leak proof side laps.

100% leak proof in side lap is ensured by machine seaming

High strength due to high profile depth and intermediate ribs.

Purlin spacing of more than 2 meter is possible due excellent geometrical properties.

Jointless single sheet eliminates water ingress in end laps.
Contact Us
Khasra No. 601/602, Village Dimoli Opp. Mohiuddinpur, Meerut, Uttar Pradesh, 250205, India
Phone :+918037261439